eus//
Soinu isolatzaile diren materialekin egindako gela bat da: prentsatutako paperez egindako adreiluak, esparto e.a. Suarekin erlazionaturiko irudi batez egiztatuko da barnea eta gelan eskegitako aurikular batzuk besterik ez dira egongo.
Barrura sartzean, zaldi talde batek galapan ateratako astrapala ozentsua entzuten da, gerra filmetan zaldizko ejertzitoek borrokan hasi aurretik ateratzen zuten antzerakoa. Baina aurikularrak belarrietan ipintzean, dena aldatu egiten da; isiltasunik isilena besterik entzungo ez delarik. Aldi berean, gela argiztatzen duen su irudia itzali eta desagertu egiten da.
esp//
Se trata de una habitación fabricada con materiales aislantes que absorben el sonido (ladrillos de papel prensado esparto etc), en su interior una imagen de video relacionada con el fuego iluminará de manera tenue la sala de la que únicamente colgarán unos auriculares.
Cuando entramos al interior de la habitación se oye un fuerte sonido de caballos al galope (como el de las películas de batallas antiguas antes del choque entre los soldados), pero en cuanto nos ponemos los cascos todo se transforma en en el silencio más absoluto y la imagen del fuego que ilumina se apaga.
Eng//
It is a room made of insulating materials that absorb the sound (compressed paper bricks, esparto etc), in its interior is a video of fire related images that faintly illuminate the room from which is empty apart from some head-phones that are hanging.
When we go into the room galloping horses are heard (like the old films before the clash between the soldiers), but as soon as we put the headphones on everything goes completely silent, and The image of the fire that illuminates is turned off.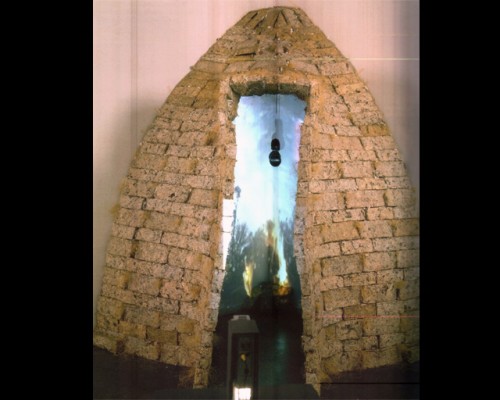 Ficha Técnica
Instalación Multimedia.
Espace d´Art Contemporani de Castelló (2000)