Dunferline, Fire Station Creative 2023 september 7- 29 october
 How to explain art to a rock (Rewriting history)
History is always written by the winners. This is true for Art History too. Pharaohs, emperors, kings and popes have decided the aesthetic rankings. Nowadays by secretive, dark organizations that make money laundry.
I propose to write our own History of Art with the aid of an interactive Duchampian suitcase: How to explain Art to a rock.
Back to a noisy and dusty reality.
Como explicar arte a una piedra (Reescribiendo la historia)
La historia siempre ha sido escrita por los vencedores, incluso en el arte la historia se escribe desde lis éxitos de los faraones, emperadores, reyes o papas y ahora desde los rankings estéticos generados en los mercados de valores.
Propongo res escribir con una maleta  Duchamptiana interactiva nuestra propia historia del arte, explicar, por ejemplo arte a una piedra. Volver a una realidad ruidosa y polvorienta.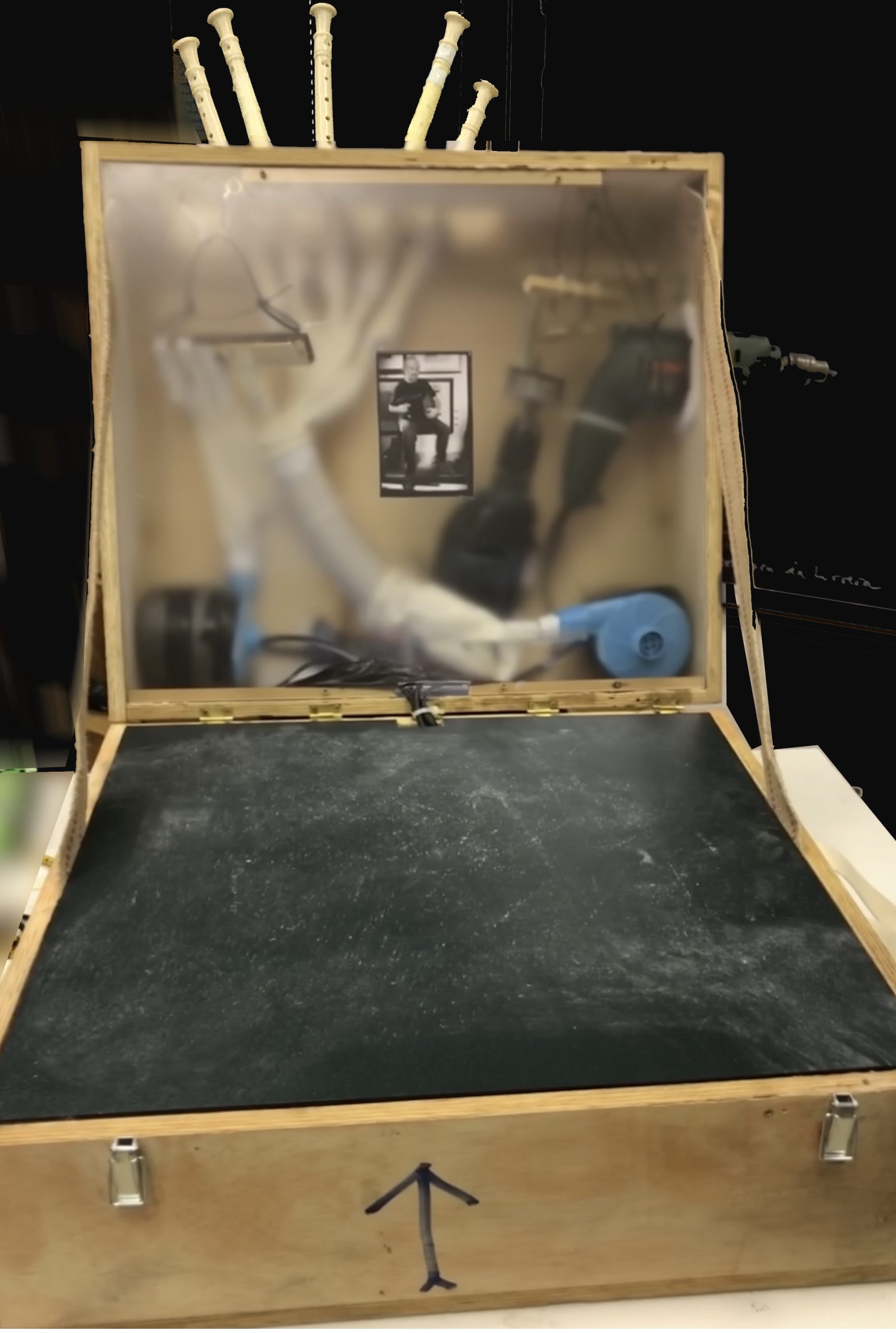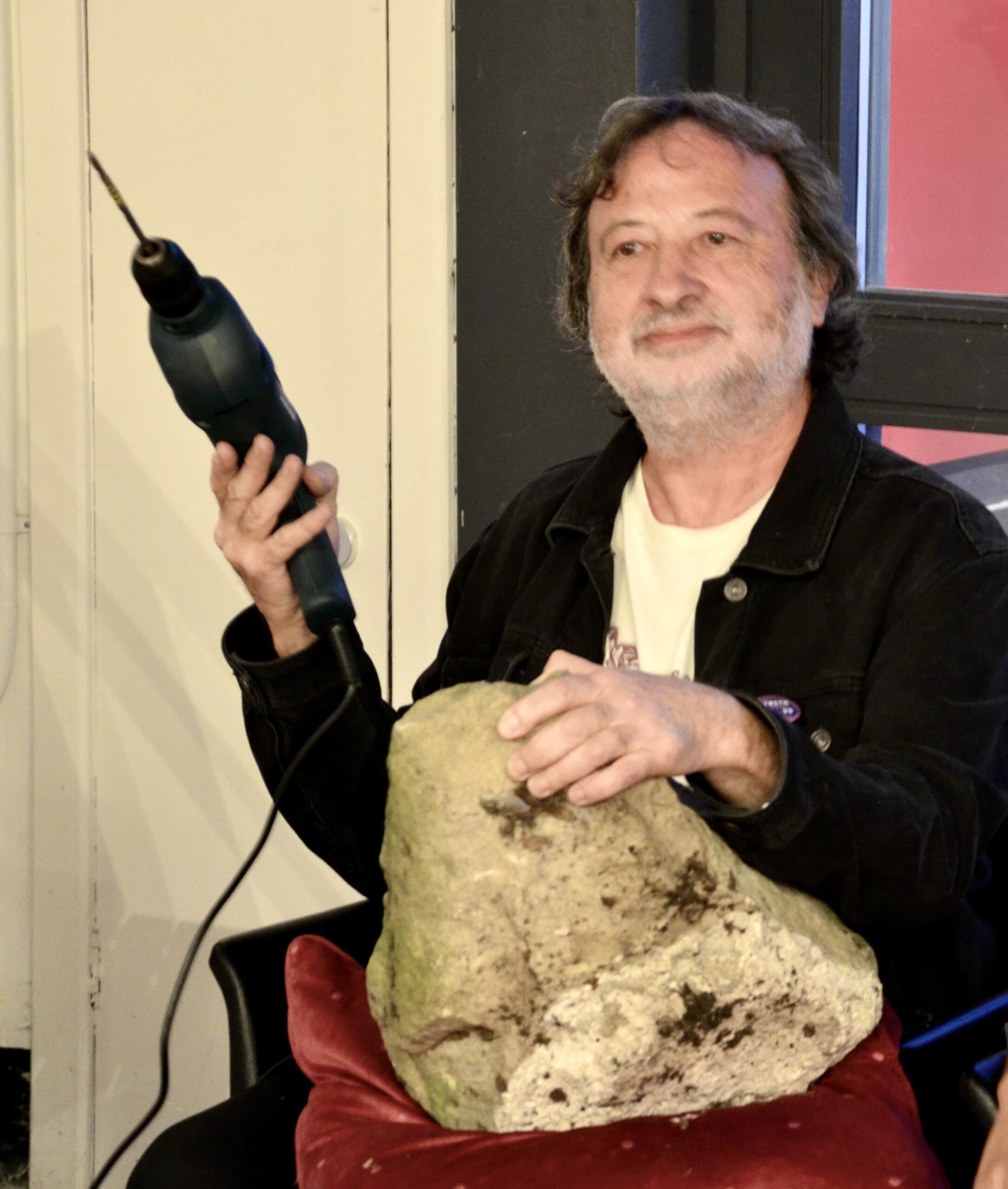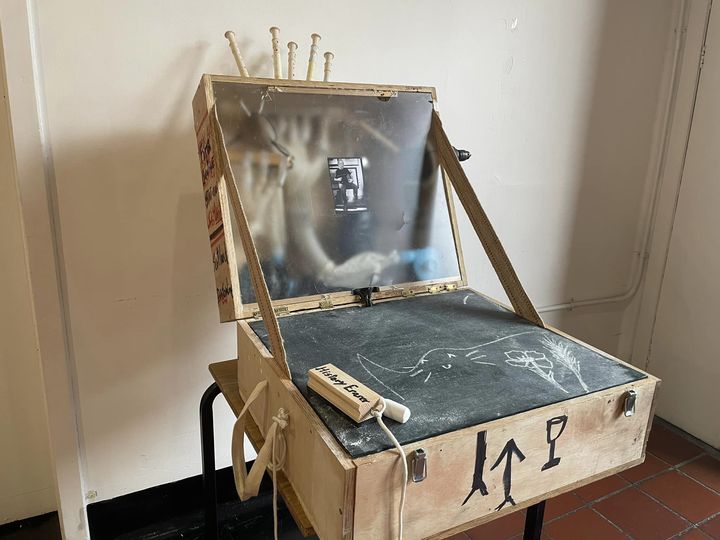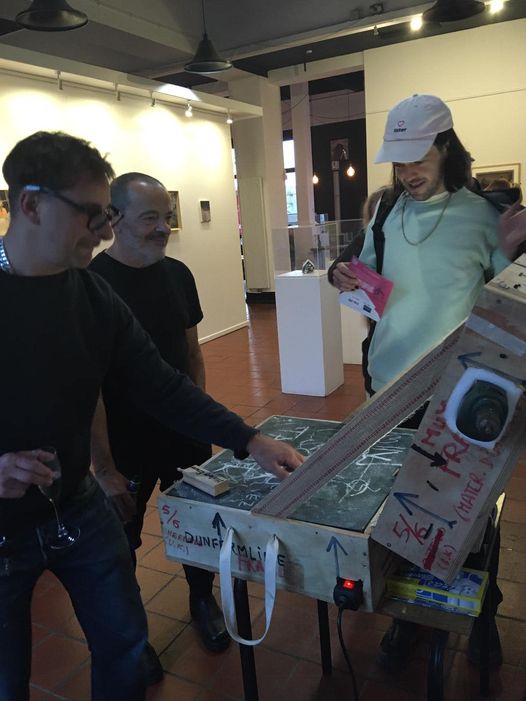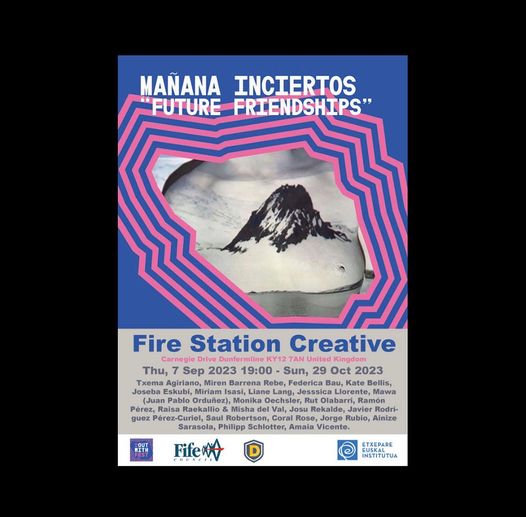 La exposición que se inaugura el 7 de Septiembre en Escocia
The Fire Station Creative y OUTWITH ARTS FESTIVAL 2023
Encuentros y exposición
Exposición 'Manana Inciertos – Future Friendships'
6 de Septiembre al 29 de Octubre. Dunfermline, Escocia
Festival y Encuentros Etorkizuneko adiskidetasunak – Future Friendships – Amistades
futuras
Tema:
La exposición y las actuaciones mostrarán que las artes pueden proporcionar una
plataforma ideal para construir amistades, conexiones profesionales y oportunidades
sin importar la raza, el género o la clase social.
Nuestra sede es el centro cultural más grande de la región. Desde que abrimos Fire
Station en 2015, hemos organizado más de 95 exposiciones, atrayendo a artistas de
alto perfil de Canadá, Alemania, Serbia, EE.UU., Hong Kong y Londres. También
brindamos oportunidades a artistas al comienzo de su carrera.
Contamos con una política de igualdad de oportunidades que nos ayuda a lograr un
equilibrio justo de eventos por parte de hombres, mujeres y non-conforming gender
(personas de género no conforme). En el festival anual, siempre organizamos eventos
amigables LGBTQ+. En los últimos 12 meses, hemos organizado tres exposiciones que
exploran específicamente la identidad femenina en la sociedad moderna.
OUTWITH ARTS FESTIVAL
Outwith es un festival de arte galardonado que cobra vida cada septiembre en la
pequeña pero poderosa ciudad de Dunfermline. El evento de 5 días de duración fue
fundado en 2017 y está dirigido por voluntarios. Outwith exhibe artistas emergentes
junto con actos establecidos y brinda experiencias culturales de calidad a la ciudad más
nueva de Escocia. Outwith ahora atrae a visitantes locales, nacionales e
internacionales y se ha convertido en un evento muy esperado en el calendario
cultural de Escocia.
Artistas en la exposición:
FIRE STATION CREATIVE. MAÑANA INCIERTO. ARTISTS FROM BILBAO
Fire Station Creative. Mañana Incierto
Artists from Bilbao. Curated by Txema Agiriano:
Miren Barrena Rebe (performance)
Federica Bau (etching)
Joseba Eskubi (painting)
Miriam Isasi (video)
Jesssica Llorente (photography)
Mawa (Juan Pablo Orduñez) (stickers)
Rut Olabarri (video installation)
Ramón Pérez (painting)
Raisa Raekallio & Misha del Val (painting)
Josu Rekalde (multimedia)
Javier Rodríguez Pérez-Curiel (performance)
Jorge Rubio (painting)
Ainize Sarasola (video)
Amaia Vicente (photography)
Txema Agiriano (multimedia)
Miren Barrena Rebe
FIRE STATION CREATIVE. MAÑANA INCIERTO. ARTISTS FROM BILBAO
Federica Bau
https://www.instagram.com/federica.bau/
FIRE STATION CREATIVE. MAÑANA INCIERTO. ARTISTS FROM BILBAO
Joseba Eskubi
https://www.instagram.com/eskubijoseba/
FIRE STATION CREATIVE. MAÑANA INCIERTO. ARTISTS FROM BILBAO
Miriam Isasi
http://www.miriamisasi.com
https://vimeo.com/miriamisasi
FIRE STATION CREATIVE. MAÑANA INCIERTO. ARTISTS FROM BILBAO
Jesssica Llorente
FIRE STATION CREATIVE. MAÑANA INCIERTO. ARTISTS FROM BILBAO
Mawa (Juan Pablo Orduñez)
https://www.mawatres.com
FIRE STATION CREATIVE. MAÑANA INCIERTO. ARTISTS FROM BILBAO
Rut Olabarri
https://www.instagram.com/rutolabarri/
FIRE STATION CREATIVE. MAÑANA INCIERTO. ARTISTS FROM BILBAO
Ramón Pérez
https://www.instagram.com/ramonperez.pintor/
FIRE STATION CREATIVE. MAÑANA INCIERTO. ARTISTS FROM BILBAO
Raisa Raekallio & Misha del Val
https://www.raekalliodelval.com
FIRE STATION CREATIVE. MAÑANA INCIERTO. ARTISTS FROM BILBAO
Josu Rekalde
FIRE STATION CREATIVE. MAÑANA INCIERTO. ARTISTS FROM BILBAO
Javier Rodríguez Pérez-Curiel
https://www.instagram.com/javierrperezcuriel/
FIRE STATION CREATIVE. MAÑANA INCIERTO. ARTISTS FROM BILBAO
Jorge Rubio
https://www.instagram.com/rubiopinedojorge/
FIRE STATION CREATIVE. MAÑANA INCIERTO. ARTISTS FROM BILBAO
Ainize Sarasola
https://ainizesarasola.net
FIRE STATION CREATIVE. MAÑANA INCIERTO. ARTISTS FROM BILBAO
Amaia Vicente